Benefits of Music Therapy
Research supports a positive impact for patients recovering from stroke and for those with chronic illness such as Parkinson's Disease.
Improved physical movement
Increase postural control
Improved speech and voice
Enhanced spontaneous language
Decreased depression and anxiety
Raglio, Alfredo. "Active Music Therapy Approach for Stroke Patients in the Post-Acure Rehabilitation." Neurological sceinces 38, no. 5 (2017): 893-897
Raglio, Alfredo. "Improvement of Spontaneous Language in Stroke Patients with Chronic Aphasia Treated with music Therapy: A Randomized Controlled Trial." International journal of neuroscience. 126, no. 3 (2016): 235-242
Poćwierz-Marciniak, Ilona. "Music Therapy in the Rehabilitation of a Stroke Patient." Acta Neuropsychologica 12, no. 1 (2014): 85-102.
Kim, Soo Ji. "Music Therapy Protocol Development to Enhance Swallowing Training for Stroke Patients with Dysphagia." Journal of music therapy. 47, no. 2 (2010): 102-119
Follow Us for Upcoming Classes and Events with Kate!
About Kate
Kate is enjoying her partnership with Harmony in Motion and working with patients and families to address physical, social, emotional, communication, and cognitive needs through music. Kate draws on her extensive background in social work, music therapy, and yoga to support wellness in playful and engaging classes. She has found that humor and human connection are vital for finding peace, joy, and personal growth no matter the challenges we face. Kate has a gift of listening to and interacting with people so they feel seen and heard. Her music therapy sessions allow participants to experience their own creative expression while having fun and connecting with others.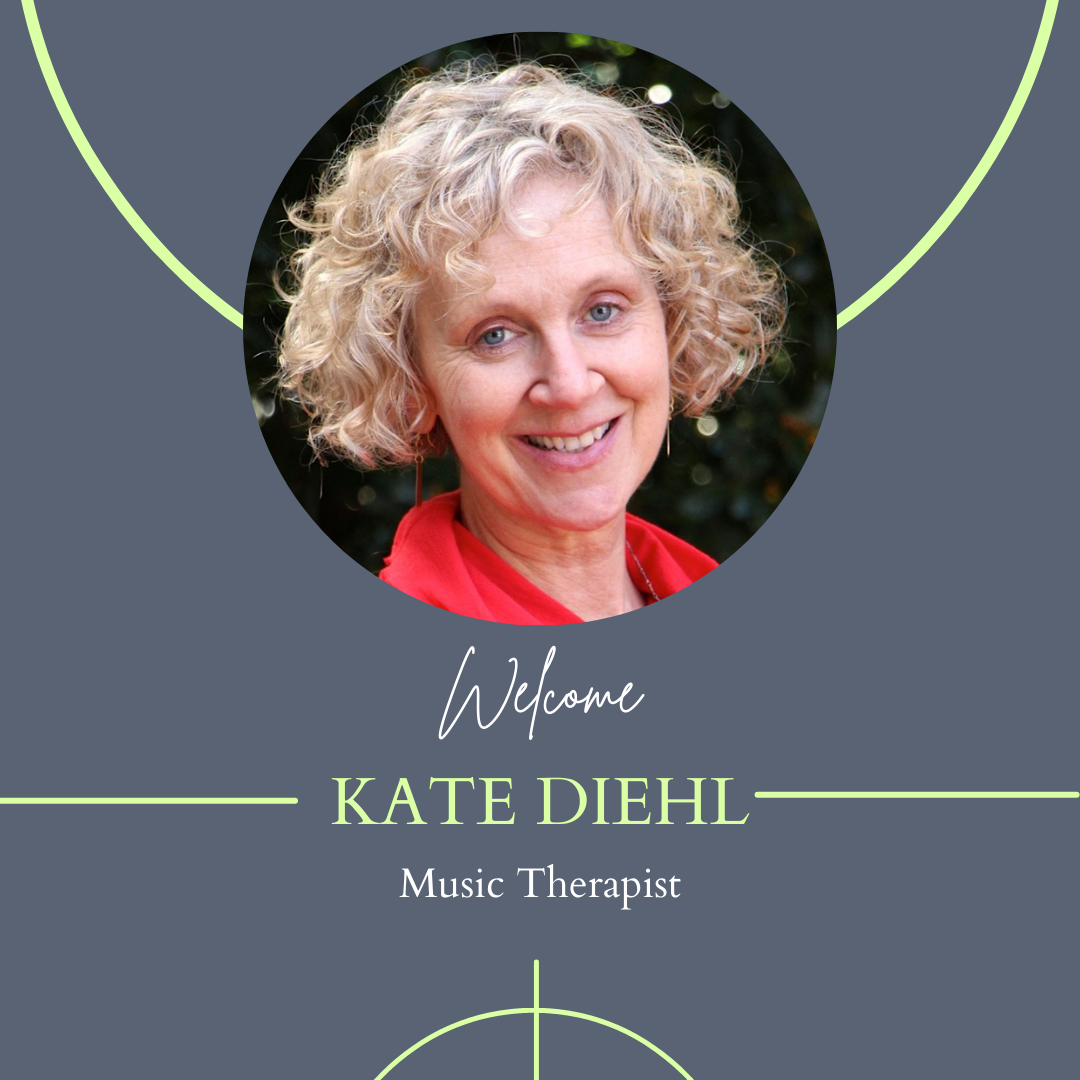 Class Schedule 2023
Class
Virtual/Live
Ongoing/Sessions
Day/Time
Location
Price
Music Therapy
Live
May 1 – May 22
Mondays
1-2pm
195 E. Yellow Breeches Rd., Carlisle
4 sessions, $50 ($25 for family members/caregivers)
Directions from Carlisle
Take Carlisle Pike (Route 34) towards Mt. Holly. Turn right on Pine Road. Travel on Pine Road for 2.5 miles until you cross the train tracks. Look for the sign that reads Callapatscink (housing development) at the intersection of Pine Road and East Yellow Breeches Road. Turn right onto East Yellow Breeches Road. The music studio is in Kate Diehl's home, located on the left side of the road with the house number (195) on the mailbox. If you enter the Callapatscink development, you have traveled too far. Parking is available on the right side of the studio. The studio entrance is on the front of the house.